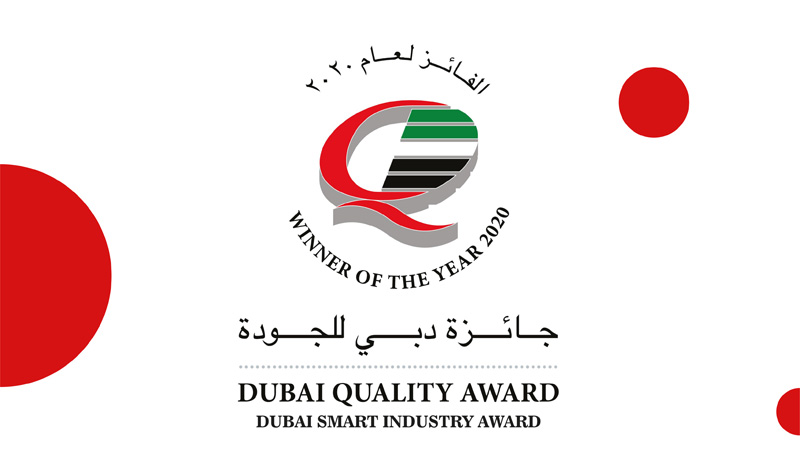 Mai Dubai's rewarding first experience with Dubai Quality Award
By Jeanette Madigan, Head of Quality at Mai Dubai LLC
With an aim to promote and recognize the integration of digital innovations by local manufacturers into their operations, Dubai Exports and Dubai Economy's Business Excellence Department added a new category to the 26th year of Dubai Quality Award (DQA) in 2019. The introduction of the 'Dubai Smart Industry Award' encourages the digital transformation of industries in line with the Dubai Industrial Strategy 2030.
Having recently expanded our 100% solar powered SMART factory at Al Quadra the new award category was a great opportunity to showcase the latest technologies implemented by Mai Dubai. Every aspect of the Mai Dubai facility has been designed in line with the principles of lean manufacturing to maximize operational efficiencies and sustainability by eliminating manual intervention across the process from raw material intake to finished product dispatch. Automated controls monitor and verify quality parameters of our water treatment, filling and packaging to guarantee optimal Food Safety and complete product traceability. In parallel we have launched Mai Dubai mobile application for online ordering and continuous monitoring of feedback to further enhance our service levels to our consumers.
Once we registered our initial interest in the 'Dubai Smart Industry Award,' we, along with other local manufactures, were invited to an introduction session at Dubai Exports to learn more about the Dubai Quality Award model and the new digital submission format. The informative workshop explained the core criteria in detail. Under the enabler section evidence would be required on digitalization strategy, skill level of people, partnerships and of course digitalization of production and supply chain. In addition, the submission needed to elaborate on the positive impacts of digital innovations on Mai Dubai's business achievements over the last five years. Evidence should show the impact on key stakeholders, including employees, customers and the wider society. A clearly defined digitization roadmap, supported by leadership commitment driver for innovation and future growth, was an essential qualifying factor in the Mai Dubai submission. Subsequently, in March 2020, Mai Dubai hosted a panel of four highly respected quality specialists from diverse industry backgrounds and selected by DQA, to verify our submission by conducting a thorough review of our smart factory and detailed interviews across all departments.
On the 11th of November, we were elated to learn that Mai Dubai has been declared the winner of DQA's first ever Smart Industry Award. A certificate was awarded for "applying and meeting the criteria prescribed in the DQA model of excellence and also for adopting a continuous improvement". This of course brought a huge sense of pride to all employees of the organization.
The automation of Mai Dubai's plant as reflected by the automated transport network, fully powered by solar and strategically positioned at the mezzanine level for optimal use of plant space; and the constant analysis of data gathered from the smart plant 24/7 for enhanced efficiencies in water treatment, production planning and logistics earned much appreciation from the judges. The recognition serves as a great motivation for us to continue our efforts as a leading example of innovation and sustainability among the region's manufactures. We consider the DQA model and the valuable feedback from the Business Excellence Department as an important tool that will help us further enhance our product and service offerings, in line with our commitment to continuous reflection and improvement.
share