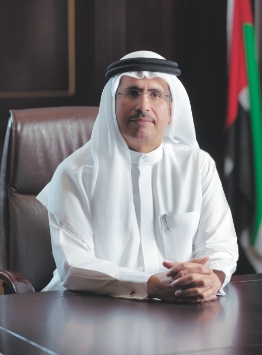 Rising to the Top
On behalf of the Board of Directors and all the staff, we welcome you to Mai Dubai.
In line with the vision and directives of His Highness Sheikh Mohammed bin Rashid Al Maktoum, Vice President and Prime Minister of the UAE and Ruler of Dubai, we strongly believe that success cannot be maintained without a long-term commitment to the well-being of the community and the environment.
Our aim is to first and foremost provide world-class, bottled drinking water to our consumers. In order to achieve this, we have moved with confidence and built a modern facility reinforced by the latest technology in the industry, governed by best-in-class procedures for hygiene, quality control, and innovation.
We are not just a business, we are also all about people. That's why the safety, welfare, and personal development of our staff are important. We have observed that this results in a positive attitude, higher work ethic, and a greater commitment to customer service excellence. That's how we ensure our employment sustainability.
H.E. Saeed Mohammed Al Tayer
Chairman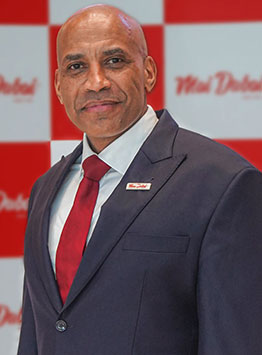 Consistency – Our path to becoming the nation's premium bottled water brand
Today, Mai Dubai has established itself as one of the leaders in the bottled water sector and is highly regarded in the United Arab Emirates for its superior drinking water. This is largely driven by the company's consistency in maintaining a competitive advantage towards shaping a healthier, more sustainable future.
Mai Dubai has grown exponentially over the years, by delivering innovative offerings to customers. It has quickly become one of the leading bottled water companies that puts a priority on sustainable operations and business excellence, largely owing to the solid teamwork, contributions to maintain sustainable operations, customer-centred services, and advanced automation technology used in its facility — which is now completely powered by the largest solar rooftop in the UAE.
As we consistently adhere to the core values of our corporate philosophy, which is to be the region's premium quality bottled water brand made for today's trendsetters, the way forward is crystal clear. In accordance with this vision, we look forward to welcoming more customers to be a part of the Mai Dubai journey, as we believe the community resonates with our passion for a quality lifestyle.
Abraham Kah
CEO of Mai Dubai LLC
People's No. 1 Choice In Hydration
For a country that forges ahead. Where the impossible doesn't exist and millions choose to write their own story every day. Mai Dubai as a brand represents the city of Dubai, a globally recognized brand. "Mai" is water in Arabic, which technically means the Water of Dubai and is perceived as "My Dubai" because of its English pronunciation. Inspired by Dubai's spirit and relentless ambition, since 2012, Mai Dubai has strived to be the Middle East's leading sustainable bottled water brand made for today's trendsetters from across the globe and diverse backgrounds, who call Dubai their home, turning dreams into reality.
Mai Dubai has been at the forefront of innovation. We are the first and the only bottling plant in the region to be 100% solar-powered, marking the second year in a row for achieving net-zero energy consumption.  Our factory has the 2nd largest solar roof installation in the world, with more than 52,000 solar panels, generating energy, to not only power the entire plant, but also clean themselves automatically, using the same energy.
Our latest addition is the new PET line, a speedy bottling line capable of producing 86,000 bottles per hour and close to 2 million units per day. Exporting to countries in Asia, Africa, Europe, and the GCC.
Sustainability is ingrained in everything we do at Mai Dubai. And for the company making millions of PET bottles every day, it was natural for us to take the initiative towards recycling. We teamed up with DGrade to produce sustainable clothing using recycled bottles.
Mai Dubai goes above and beyond to ensure the health and safety of its employees and its stakeholders. We have been accredited with Grade-A Health and Safety rating by Dubai Municipality and successfully achieved a five-star grading in the British Safety Council Occupational Health and Safety Audit.
Our journey until now has been challenging yet exciting, witnessed by growth and outstanding achievements.
We have overcome challenges, dared to achieve the impossible and yet we believe, this is just the beginning.
This is our story, this is #MaiDubai.