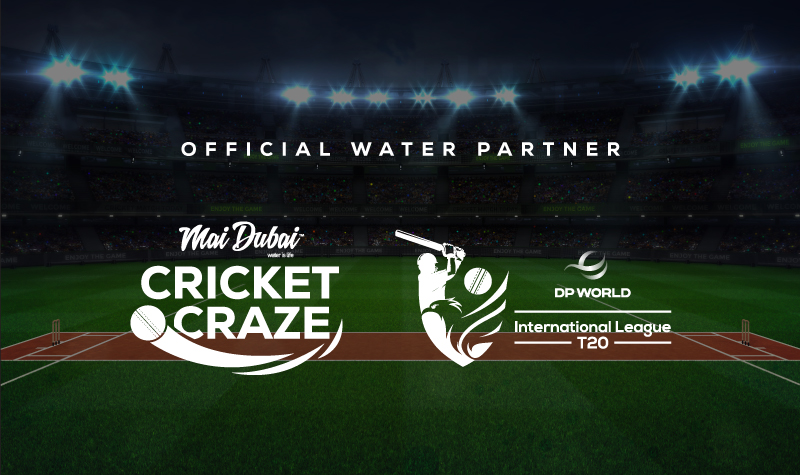 Mai Dubai titled the official Water Partner for DP World International League T20 and all competing franchises
January 12, 2023: Mai Dubai, the leading bottled water company in the UAE, has been named the official Water Partner for the inaugural season of the DP World International League T20 and all six participating franchises. The league, which begins on January 13,
2023, will feature a total of 34 matches played across various prominent cricket facilities in Abu Dhabi, Sharjah, and Dubai, until February 12, 2023.
Through this collaboration, Mai Dubai will meet the hydration requirements of some of the finest cricketers in the world with its Mai Dubai ZERO+, Zero Sodium Alkaline Water, which has become the preferred choice of drinking water among the world's leading athletes. This is primarily due to its unique composition, which allows for peak performance and optimum hydration. The DP World ILT20 tournament is set to feature six franchises – the Abu Dhabi Knight Riders, Desert Vipers, Dubai Capitals, Gulf Giants, MI Emirates, and Sharjah Warriors.
Mr. Abraham Kah, CEO of Mai Dubai, said: "We are extremely elated to partner with the DP World International League T20 and its six leading franchises as their official Water Partner. We strive to encourage a healthy lifestyle and promote hydration as a critical
component of maintaining good health, while also placing sustainability at the centre of our mission. Our collaboration with DP World ILT20 tournament provides us with an ideal opportunity to drive this vision, and further solidify our status as a premium drinking water brand in the region. We look forward to this exciting league and wish all players the best of luck."
Mai Dubai has become one of the most valued brands for hydration among the UAE's major sporting events. The company has a diverse portfolio that includes partnerships with Asia Cup 2022, IPL T20, Dubai Fitness Challenge, Dubai Duty Free Tennis Championships, and Dubai City Half Marathon.
share