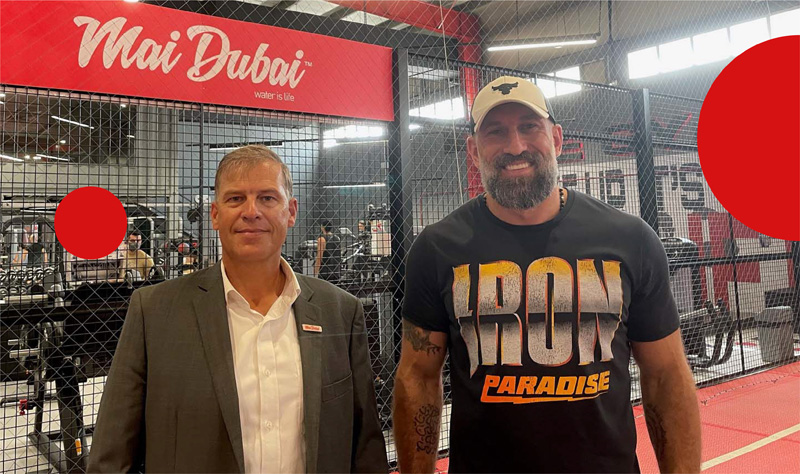 Mai Dubai Partners with Basketball Superstar Fadi El Khatib's Champs UAE Sports Complex
Mai Dubai, a leading bottled water company in the UAE, will remain for the second consecutive year the exclusive hydration partner of Champs UAE, a multipurpose sports complex founded by renowned Lebanese basketball legend Fadi El Khatib.
Initiated in 2021, the partnership comes as part of Mai Dubai's continued efforts to encourage a healthy and active lifestyle in the region.
Alexander van 't Riet, CEO of Mai Dubai, said: "Our collaboration with Champs UAE is in line with our commitment to promote hydration as a crucial aspect of physical fitness. At Mai Dubai, we have always championed initiatives that promote an active lifestyle. Our brand has become synonymous with good health and wellness in the sports community. We look forward to engaging in future partnerships that share our drive to highlight the UAE as a benchmark for healthy and happy citizens."
Fadi El Khatib, Founder & CEO of Champs UAE, said: "At Champs UAE, we consider our partnership with Mai Dubai as another opportunity for us to achieve our vision of creating a vibrant and healthy society. We are also delighted that we can carry forward our mission to promote a healthy lifestyle in our communities in cooperation with Mai Dubai. Our partnership will help advance our work as well for our elite UAE athletes, as they strive to break through barriers and train to reach their full potential. We look forward to further sustaining and expanding the scope of our collaboration."
Owned by Dubai Electricity and Water Authority (DEWA), Mai Dubai is a sustainability-driven company that focuses on building partnerships of mutual growth and excellence. This strategy has contributed to Mai Dubai's esteemed position and status as the preferred choice for drinking water amongst athletes and sports enthusiasts in the region. The company has also evolved into an active partner for many sporting events in the UAE.
share