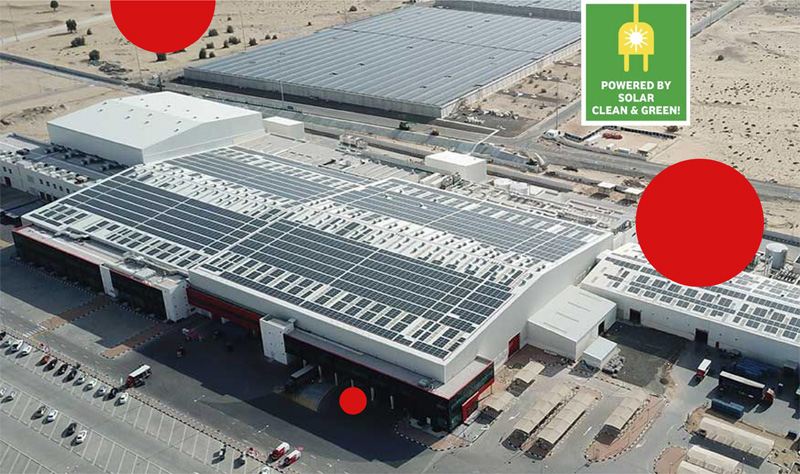 Mai Dubai marks second year of net-zero energy consumption
Rooftop solar system produces more than 30-million-kilowatt hours (kWh) energy in 2021
Mai Dubai, a leading bottled water company in the UAE, has marked its second consecutive year of achieving a net-zero energy consumption and cutting down its overall carbon footprint. The company's rooftop solar panel installations produced more than 30 million kWh of energy in 2021 while consuming only 29 million kWh.
The excess energy was exported to DEWA power grid, contributing to the UAE's efforts to increase its renewable energy solutions. In 2020, the company's solar panel installations generated 26 million kWh of energy, with a surplus of 4 million kWh sent back to DEWA's power grid.
Mai Dubai's more than 52,000 rooftop solar power panels have been powering the entire factory and the onsite offices with clean energy since 2019. The solar installation reduced the company's carbon dioxide emissions by over 13,432 metric tons in 2021 – which is equivalent to carbon emissions produced from an average passenger vehicle if driven for 33,757,274 miles in a year.
The rooftop solar system, with 18.1 MW capacity, is one of the company's major sustainability initiatives and has been dubbed as the second-largest solar roof installation in the world and the largest in the F&B industry.
Alexander van 't Riet, CEO, Mai Dubai, said: "Movement towards sustainability is a major focus in UAE and it has been one of the most pressing issues we all have to address. Since our inception, sustainability has been one of our core pillars, and we ensure that all our operations reflect this goal. Our net-zero energy consumption for two years is a strong testament to contributing to a better and sustainable future. Mai Dubai continuously strives to be innovative, efficient, socially and environmentally responsible."
"The first step to implementing carbon reduction goals is to measure carbon footprint, then benchmark against it and improve it every year. We have done it, and we will continue to foster responsible operations alongside other sustainability initiatives," he added.
Furthermore, Mai Dubai has strengthened its sustainability initiatives by obtaining LEED certification for its main office building – reflecting its strong commitment to environmental sustainability. Mai Dubai owned by Dubai Electricity and Water Authority (DEWA), continually strives to create a safer and more sustainable future throughout its operations.
-Ends-
share